Around 300 people attended our two public exhibitions
21 May 2019
Crowds Attend Otterpool Park Exhibition
Around 300 people attended two public exhibitions held last week to bring the public up to date on proposals for Otterpool Park.
With the deadline approaching for comments to a planning applica0tion for the new Garden Town submitted earlier this year, this was a further opportunity to put their questions directly to the project team.
The drop-in events held on Thursday at Westenhanger Castle and Leas Cliff Hall, Folkestone, the following day, with questions over green space, affordable homes, water supply and transport access among the issues raised and answered over the two days.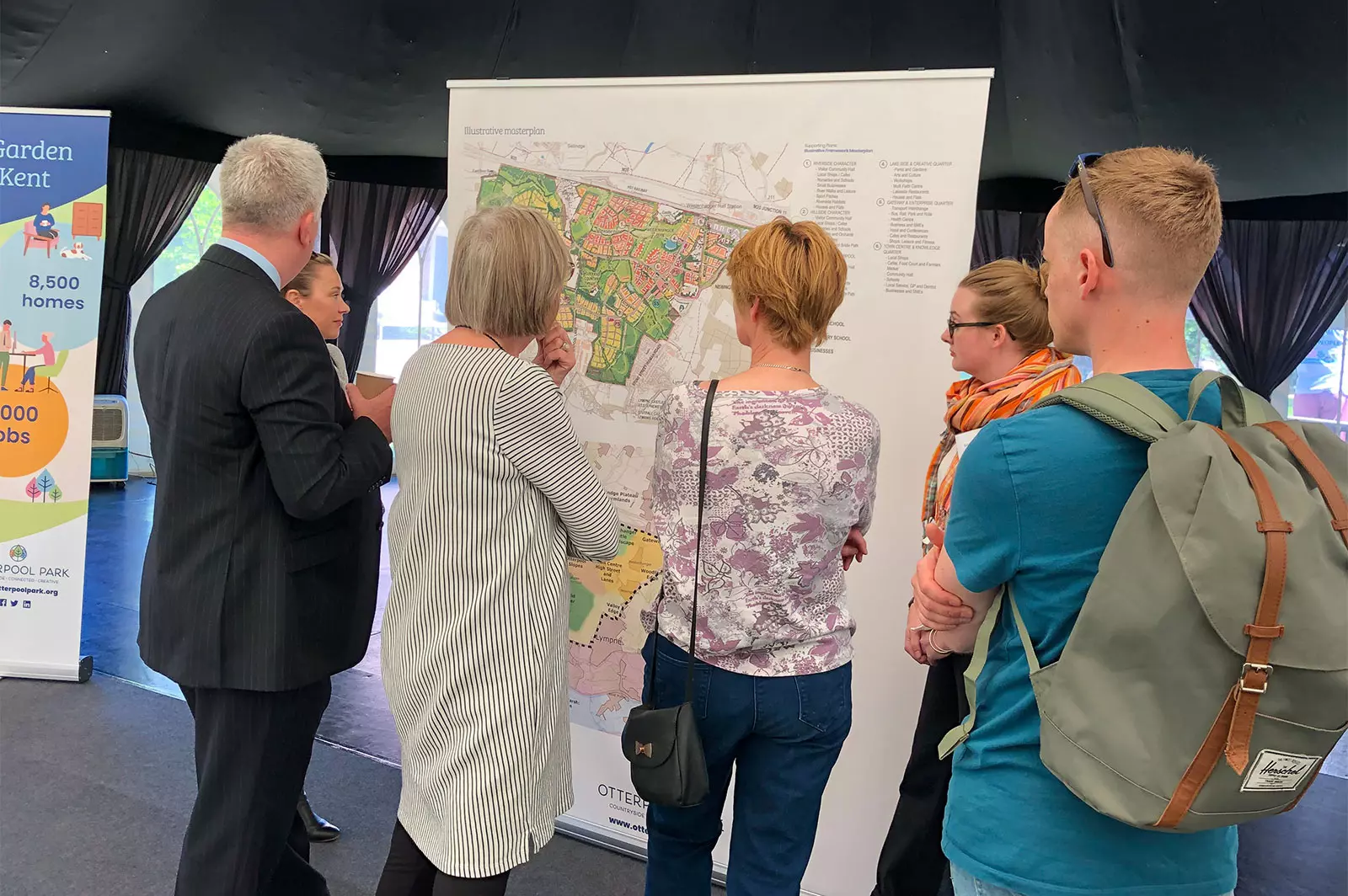 Andy Jarrett, spokesperson for Otterpool Park responded:
"We hope local residents, and businesses able to get along to the exhibitions left with a deeper understanding about the benefits that the Garden Town could bring to the district.

"We have taken full account of the views of the public of our proposals during consultation and sought to show how what we plan would not only deliver a new Garden Town that benefits future residents, but also the existing local community.

"We would like to thank all of those that came along and encourage those who didn't to take a look at our website, where we have placed lots of useful information that will answer many of the questions people have."
The proposed development is located seven miles from Folkestone. If given the go-ahead Otterpool Park would take shape on the former racecourse and the land surrounding it. Around 50 per cent of the total space would remain as green open space, including new country parks.
It has excellent connectivity with easy access to the M20 via junction 11 and Westenhanger station, as well as being centrally positioned in the district.In addition to employment opportunities, the development area has the capacity to make a major contribution to the district's housing needs, incorporating up to 10,000 homes as part of a carefully planned and sustainable scheme. The planning application accounts for the first 8,500 of these that would be delivered up to 2050.
There's still a chance to put forward formal comments about the application via the Folkestone & Hythe District Council's local planning authority website https://www.folkestone-hythe.gov.uk/otterpoolpark/planningapplication or directly to the Council offices at the Civic Centre in Folkestone. The deadline to comment is 27 May 2019 and the application reference number is Y19/0257/FH.