Short story writing competition
14 November 2022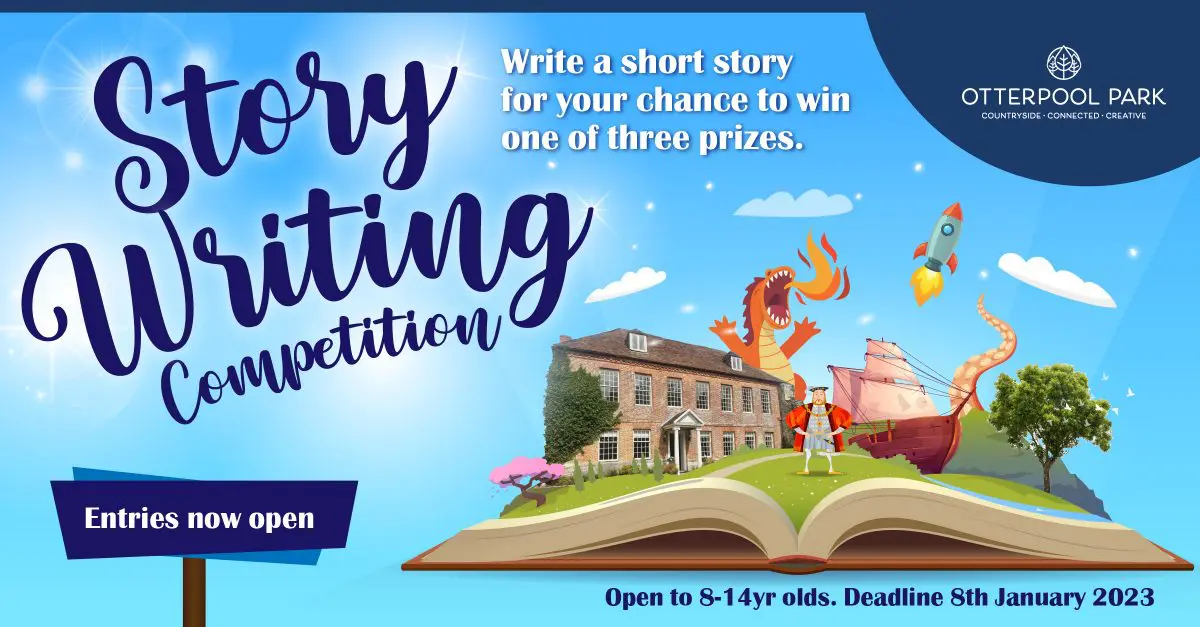 UPDATE 9 JANUARY 2023: please note that this competition has now closed and winners will be announced at the end of January 2023.
Entries are now open for our new short story writing competition for budding young writers aged between 8 – 14 years!
You are invited to write a story of up to 500 words based on one of the following prompts – all based around the setting of Westenhanger Castle, the jewel in the Crown of the Otterpool Park site.
  1. Queen Elizabeth I discovers a ghost at Westenhanger Castle…

  2. A forgotten item is found in the Tower at Westenhanger Castle…
  3. It's 1542, and the sun rises on Westenhanger Castle…
Entrants have until midday on Sunday 8 January 2023 to write and submit their story. The winning story will be performed by professional storytelling artist Emily Hanna-Grazebrook during National Storytelling Week in February 2023.
The first prize winner will receive £100, and their story will be published on our website. The second and third prize winners will receive £50 and £25 prize respectively. All three winners will receive a storytelling coaching session and a writing set.
Please email any queries to community@otterpoolpark.org.
The competition is part of our work to engage the community from the early stages of the development's planning and to encourage creativity and learning. It follows a series of storytelling-based activities that have been held at Westenhanger Castle this year, which have included National Storytelling Week, half term activities, the Queen's Jubilee Bank Holiday theatre performances and Halloween events.
Tamasin Jarrett, Community & Events Manager at Otterpool Park said, "This is a fantastic opportunity for young people to write creatively, with the chance of having their work performed by a professional storyteller.
"We want to champion creativity, writing and storytelling skills in young people. We've provided a loose theme to get their creativity flowing, and we are looking forward to reading their stories – I am sure we expect some entertaining plots and exciting twists and turns."
Terms and conditions
Otterpool Park LLP Short Story Writing Competition
ENTRY INSTRUCTIONS

Submissions for the competition will be accepted from Monday October 31st
The DEADLINE for receipt of entries is MIDDAY on Sunday 8th January 2023
Entries will only be accepted with a separate the Entry Form
All authors are strictly required to obtain the prior approval of any third party who holds any rights in their story before submitting an Entry.
Entries are to use one of the three prompts provided. You can enter any number of short stories but please check you are submitting the correct version of your work before uploading, as mistakes cannot be rectified later. If you have submitted the wrong version or have made a mistake in the work, you can withdraw it and resubmit a corrected version with the word 'FINAL' included in the file name.
Fill in the Entry Form and submit your story viaemail (community@otterpoolpark.org) All entries are judged anonymously. Please do not include your details on the story itself – use the Entry Form provided.
ENTRY TERMS AND CONDITIONS

Format the short storyas per the following instructions:
Your story must be written in English
A maximum of 500 words. No minimum. Title not included in the word count.
Stories may be handwritten or Typed
Save as a Microsoft Word document (.doc or .docx). We also accept file types .rtf, .pdf, with the story title as the file name.
CONDITIONS

GENERAL

"Competition" means this competition to find the best short story, as determined by the appointed judges.
"Entrant(s)" means all authors submitting an entry.
"Entry" means any short story meeting the submission criteria entered for the Competition.
From the Entries submitted, the judges will determine a list of three outstanding Entries, from which they will select the winning Entry and two runners-up. Otterpool Park LLP reserves the right to increase or reduce the number of Entries selected at their sole discretion.
First prize is £100 and publication of the story on our website, and this will be presented to the author of the best, eligible Entry in the opinion of the judges.
Winner of the first prize will also have their story performed by professional storyteller Emily Hanna-Grazebrook during National Story Telling Week
Second prize is £50 and publication of the story on our website.
Third prize is £25 and publication of the story on our website.
All three winners will receive a storytelling coaching session with professional storyteller Emily Hanna-Grazebrook and the opportunity to perform their story during National Storytelling Week should they wish.
ELIGIBILITY

The Competition is open to writers across the globe aged between 8 – 16 years.
The Entry must not contain more than five hundred words. The word count should be listed on the Entry and must be precise.
Entries must be submitted by the author. Entries must be entirely the author's own work. Any evidence to the contrary will result in immediate disqualification.
The author may submit more than one story.
Entries must not have been published, self-published, published on any website, blog or online forum, broadcast, have won or been placed (2nd, 3rd, runner up etc) in any other competition.
Entrants warrant that their Entry is original, entirely the Entrant's own work, does not infringe any existing copyright, moral rights or any other rights of any third party and contains nothing obscene, libellous, unlawful, defamatory or anything which Otterpool Park LLP may otherwise deem to be inappropriate, and the Entrant warrants that the Entry is suitable for publication on the Otterpool Park LLP website.
3.3           COPYRIGHT AND TERMS OF USE
3.3.1      Worldwide copyright of each entry remains with the author, but Otterpool Park LLP         has unrestricted rights to publish the winning and runners-up stories on the          Otterpool Park LLP website and any relevant promotional material.
3.3.2     The Entrant acknowledges and agrees that each winning Entry shall be cleared and can be used for publicity purposes to generate coverage for the Competition,          in a format, manner and for such time as may be determined by Otterpool Park LLP.
JUDGING

The Competition judges (as appointed by Otterpool Park LLP) will select three Entries for first, second and third prize. Otterpool Park LLP reserves the right to increase or reduce the numbers of winning Entries selected at their sole discretion.
All three winning Entries will be contacted personally by telephone and email. The overall winner of the Competition will be announced on 20th January 2023, on the Otterpool Park LLP website and social media channels
The judges' decision is final, and no correspondence will be entered into, or appeals shall be heard. Judges are unable to comment on individual Entries. Judging is fair and unbiased.
The judging panel will be appointed by Otterpool Park LLP and will include a representative from Otterpool Park LLP.
ADMINISTRATION AND COMMUNICATION

The Entry Form and short story must be completed and submitted by Midday on Sunday 8th January 2023 via email.
Entrants must provide their telephone number and postal address. Otterpool Park LLP will only ever use personal details for the purposes of administering this competition and will not publish them or provide them without permission to anyone not involved in the administration of this competition. As a condition of entry to the competition, Entrant's consent to their names being published by Otterpool Park LLP in connection with the competition.
Entries are to be submitted via community@otterpoolpark.org It is NOT possible to confirm receipt of Entries by phone or email.
Entrants must supply full details as required on the Entry Form and comply with all rules and terms and conditions to be eligible for the Competition. Ineligible, obscene or fraudulent Entries will be automatically disqualified. In the event that any Entrant breaches or Otterpool Park LLP reasonably believes that an Entrant has breached these Terms and Conditions, Otterpool Park LLP may reject the Entry and/or remove the Entrant from the competition.
Please note that no Entries can be returned.
Otterpool Park LLP reserves the right to refuse any Entry to the Competition for any reason at their absolute discretion.
Any author who submits an Entry warrant that they have all necessary consents, approvals, rights and licences required to submit an Entry in accordance with these Terms and Conditions.
Entrants indemnify and will keep Otterpool Park LLP indemnified against loss, injury or damage (including any legal costs or expenses and any compensation costs and disbursements paid or incurred by Otterpool Park LLP, on the advice of legal counsel to compromise or settle any claim) occasioned to Otterpool Park LLP, in consequence of any breach of the warranties contained in these terms and conditions or arising out of any claim alleging that the submitted Entry constitutes an infringement of any third party intellectual property rights or contains libellous, obscene or defamatory matter.
There is no alternative to the prize stated and the prize is not transferable, and no part or parts of the prize may be substituted for other benefits, items or additions.
Otterpool Park LLP will not be liable for any failure of receipt of Entries. Otterpool Park LLP have no responsibility or liability for any Entries which are lost, delayed, illegible, damaged, incomplete or otherwise invalid.
Otterpool Park LLP reserves the right at any time to cancel, modify or supersede the Competition (including altering prizes) if, at its sole discretion, the Competition is not capable of being conducted as specified. Otterpool Park LLP reserves the right to substitute a prize of equal value in the event that circumstances beyond their control make this unavoidable or such other reasons as Otterpool Park LLP may deem reasonable.
Otterpool Park LLP reserves the right to amend these Terms and Conditions. Any amendments will be published on the Otterpool Park LLP website. It is the responsibility of the Entrant to check for any changes to the Terms and Conditions.
These Terms and Conditions are exclusively governed by the laws of England and Wales and Entrants submit to the exclusive jurisdiction of the courts of England and Wales. Nothing contained in these Terms and Conditions shall limit the right of Otterpool Park LLP, its affiliates or subsidiaries, successors or assigns, to bring a claim against any party in any other jurisdiction.