Short story competition winners announced!
27 January 2023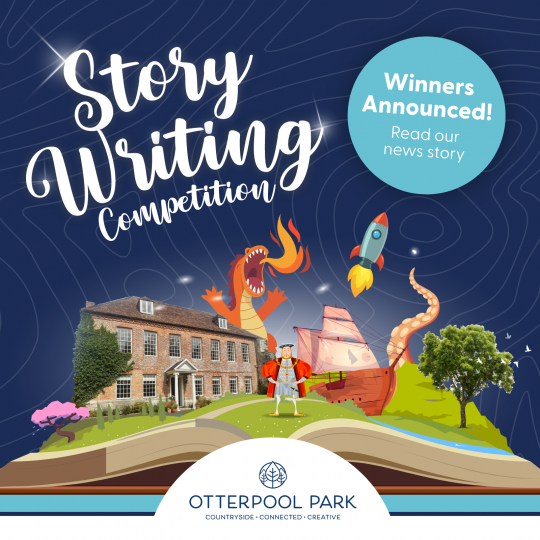 We are delighted to announce the winner of the Otterpool Park Short Story Writing Competition as Evie Pau, aged 12, from New Romney in Kent!
The competition, which received over 40 entries from across the UK, invited young people to write a short story of 500 words inspired by three story 'prompts', all based around Westenhanger Castle which is on the Otterpool Park site.
Evie's winning story, entitled 'Queen of the Castle', impressed the judges with its descriptive content and how it painted a clear picture, taking the reader on a journey imagining the grounds of Westenhanger Castle.  Judges commented that the winning entry also finished with an open ending which was playful and left the reader hungry for more!
The second prize winner in the story competition is Jasmine Wales (aged 12) from Ely, Cambridgeshire with her story 'The Sailor's Revenge' and the third prize has been awarded to Clementine Forsyth (aged 10) from Hawkinge, Kent with 'Fate'.
All three winners will receive a storytelling coaching session at Westenhanger Castle with professional storyteller Emily Hanna-Grazebrook during National Storytelling Week this February, as well as a voucher and writing set. More than 40 entries were received, and all entrants will be sent a writing set.
First prize winner Evie said, "I am absolutely over the moon to have won!" Her mum Elizabeth added, "Evie has always loved books and she always keeps a notebook in her bag to scribble down anything that inspires her, so she is absolutely thrilled about visiting Westenhanger Castle!"
Otterpool Park's Community Services & Events Manager Tamasin Jarrett said, "We want to encourage and enable creativity and learning as much as possible at Otterpool Park and through initiatives like this we have been able to encourage young people to use their imaginations and be inspired by local heritage. We have loved reading every story and are amazed at what a talented and imaginative bunch all the competition entrants were!
"The entries were of such a high standard that we are going to collate them into a digital book for others to read and enjoy. This will be published on our website during National Storytelling Week this February."
One of the story competition judges, Martin Latham, a published author and former lecturer at London University said, "The stories were exhilarating in their range and fiery imagination. I loved reading them but agonised over the judging. The scene setting of all was especially vivid; cinematic in some cases!" Martin is the Branch Manager of Waterstones in Canterbury and is the longest serving Waterstones Branch Manager!
Keep up to date with future competitions and events by signing up to our newsletter and by following us on Instagram, Facebook and Twitter.