Public engagement on Otterpool Park
1 December 2016
Residents of Shepway and East Kent are invited to participate in a series of community sessions regarding the proposed garden town known as Otterpool Park.
The sessions will provide the first occasion for residents and other members of the local community to discuss the opportunity that planning a garden town presents with the planning and design team, as well as to learn about the master-planning process. The process of developing a masterplan framework will be informed by the contributions from local people, businesses and organisations, all of whom are encouraged to participate to guide the development of this garden town.
The proposed garden town will be located seven miles from Folkestone and accessible from Junction 11 of the M20 and Westenhanger station. The master plan will enable forward planning of up to 12,000 homes, land for employment, shops, schools, medical centres and other community facilities, as well as high-quality open space and access to the countryside. These events will be the first of a series which will give the community the chance to influence this process.
In addition to these local community sessions, events are also being planned for local organisations, such as businesses, local schools and colleges. This is the first of a series of engagement and consultation events that will continue throughout 2017 so that people can comment on ideas and plans as they evolve.
Community engagement sessions: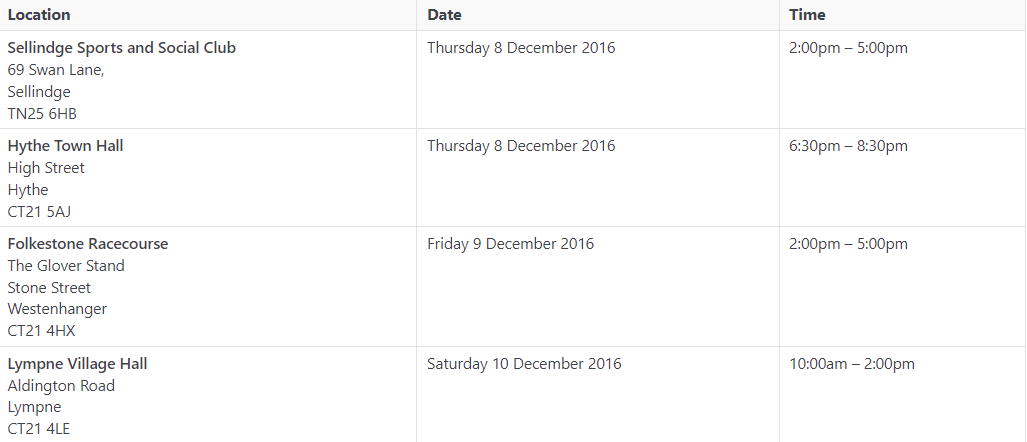 A full media briefing and Q&A will take place before the community sessions begin, taking place on Thursday 8 December 2016 at East Kent College, Shorncliffe Road, Folkestone, Kent, CT20 2TZ.