Perfectly placed for business
18 January 2023
With plans for a 30-acre business park, the creation of 9,000 jobs and a town centre combining homes, retail, leisure and workspace, over three decades Otterpool Park will become a place for businesses to succeed and for people to work, connect and collaborate. We spoke to John Foster, our Economic Development Manager, about how creating a place for everyone within a new mixed-use, inclusive and vibrant community is about more than just providing homes.
Otterpool Park's location in the Folkestone and Hythe district, its transport connectivity and rail services to London from Westenhanger station on site make it attractive as a business location as well as a place to live and visit. Europe can be accessed via Eurotunnel from nearby Cheriton and by sea from Kent's nearby ports.
Connectivity is a theme that runs throughout Otterpool Park, from its strategic location and to its super-fast broadband. It also takes in the connections that will be made within the new community, between neighbours and friends, by businesses working collaboratively and even through the design of the town, which is linked up by a network of cycling and walking routes within Otterpool Park and into the district.
John joined Otterpool Park LLP in 2022, bringing extensive local government regeneration and inward investment expertise to the project.
Outlining his initial priorities, he told us, "Primarily I was brought on board to start with the business engagement to help bring forward the new business park, which is a very exciting opportunity of a new 25-30 acre business park just next to junction 11 of the M20. It is one of very few large business parks that are going to be available in the Folkestone and Hythe area and is a real opportunity to bring forward something special.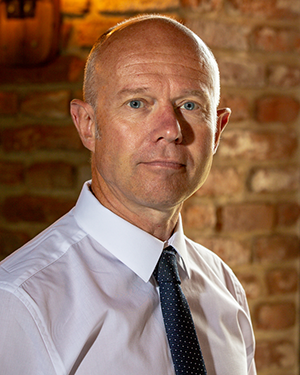 "We expect there to be plenty of inward investment interest from outside the area and we are also very keen to look at retaining local businesses who would like to grow but are constrained on their current site. Space at the Otterpool Park business park will enable them to expand their business within the district and keep their connections to the area. We can support companies who are looking or needing to improve their environmental credentials – they might currently occupy an old property for example – and it can be incredibly difficult to make them energy efficient, or to add on renewable energy technologies."
The Folkestone and Hythe district is a successful hub for the creative and digital industries. The Otterpool Park team expects there to be further opportunities for businesses in these sectors to have additional space available to them, attracted to having a base in the new garden town, rapid connectivity to London and an excellent quality of life. John anticipates Otterpool Park to appeal to a variety of other sectors, and in particular green industries, low carbon goods and services, business and financial services and advanced manufacturing.
"I think there are opportunities to look at additional sectors, particularly around food, food innovators, producers, creators, and we are already doing some work with Produced in Kent looking at the opportunities there.
"A site of this size really gives us an opportunity to attract inward investment. We are working with Locate in Kent and potentially looking at working with supply chains to some of the big investments that are going on locally."
Plans are well developed for the first phase of Otterpool Park, the mixed-use town centre. John continues, "I am looking at the town centre uses that we hope to be able to bring into Otterpool Park so that the first occupants of the garden town will have services available to them. That will include supporting my team members with developing the education, health and community services.
"It will be quite a dense town centre in terms of built form and uses – convenience shopping, a coffee shop early on in the development, a pub, a pharmacy, and an estate agent. There will be a whole range of different shops, services, health and community facilities and we're already having some positive conversations. We are very much interested in supporting local independents coming in as much as we can do and we'd like to include maker spaces for the creative industries and small, incubator space for businesses.
"We have a desire to bring forward managed business space in the town centre as early as we can. Looking at what that might look like in terms of managed workspace, it would be up to about 20,000 square foot, which will have flexible easy in easy out offices, co working space, superfast broadband and all the services included. We are trying to create a really connected community of peer-to-peer support. And hopefully, other businesses who are already located on this spot will be able to provide that sort of support to early start-ups too."
Providing employment for residents of Otterpool Park and for people in the local area will contribute to the local economy, with a projected 9,000 jobs created in the new garden town over approximately 30 years.
With outline planning permission expected in the coming months, John is excited about the year ahead, "There are so many different aspects to the scheme. We are creating a beautiful, sustainable settlement – 50% of it will be accessible green spaces, linked up by 35km of walking and cycling routes through the Castle Park and through to the country park, bringing forward the heritage assets and archaeology that will be better known and understood.
"Other locations for business growth in the area are fairly limited so there's an opportunity to create something really inspiring, creative and attract a great community here."
We are looking to engage with companies of all sizes who might be interested in locating to Otterpool Park or working with us as an investor, occupier or supplier.