Get creative with our events for The Big Draw 2022
22 September 2022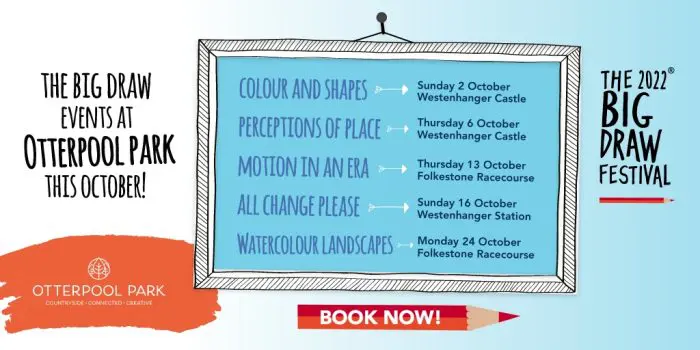 THE BIG DRAW FESTIVAL 2022:
Get creative with Otterpool Park's events this October
Events will take place at Otterpool Park this October in celebration of The Big Draw Festival 2022.
Six artist-led workshops will take place at locations across the Otterpool Park site including Westenhanger Castle, Westenhanger station and the former Folkestone Racecourse. The activities, which require no previous drawing experience, will encourage participants to explore their creativity, taking inspiration from the setting. The events are free to attend but tickets must be pre-booked on Eventbrite.
The Big Draw Festival takes place all year round, with the official Festival month celebrated in October. Since 2000, the international celebration of drawing has taken place annually across over 25 countries and has encouraged over four million people back to the drawing board.
Arts education charity The Big Draw, which is the founder and driving force behind the festival, believes that 'everyone can draw'. They promote drawing as a universal language that has the power to change lives and unite people of any age, background, race or religion from around the globe.
The free events, which can all be booked by searching 'Otterpool Park' on Eventbrite, are:
Explore Colours & Shapes at the Castle FOR FAMILIES
Sunday 2 October, 11am-1pm
Westenhanger Castle
Explore Colours & Shapes at the Castle FOR ADULTS
Sunday 2 October, 1.30pm-5pm
Westenhanger Castle
Perceptions of Place
Thursday 6 October, 10am – 2pm
Castle Park, Westenhanger Castle
Motion in an Era
Thursday 13 October, 10am – 2pm
The Parade Circle, Folkestone Racecourse
All Change Please
Sunday 16 October, 10am – 2pm
Westenhanger Station
Watercolour Landscapes for Families
Monday 24 October 2022, 10am – 2pm
Parade Circle, Folkestone Racecourse
Tamasin Jarrett, Community Services and Events Manager at Otterpool Park said, "We want Otterpool Park to be a creative and inclusive community; our participation in The Big Draw Festival aims to encourage people of all ages and abilities to join us in these artist-led activities and explore their creativity here with us.
"We are at the start of our journey of creating a new community here – that gives us the opportunity to do things differently and approach things creatively, using the landscape, architecture, colours, shapes, nature and history of our surroundings as our inspiration. We are also hoping to capture a visual record of the site over time through other people's eyes."
The events are the latest in a series of community activities at Otterpool Park – this year's programme has included storytelling events, open air theatre events for the Jubilee and the Otterpool Green Stars events over the summer holidays.
Find out more at www.otterpoolpark.org.