British artist Mark Wallinger visits Otterpool Park
3 March 2023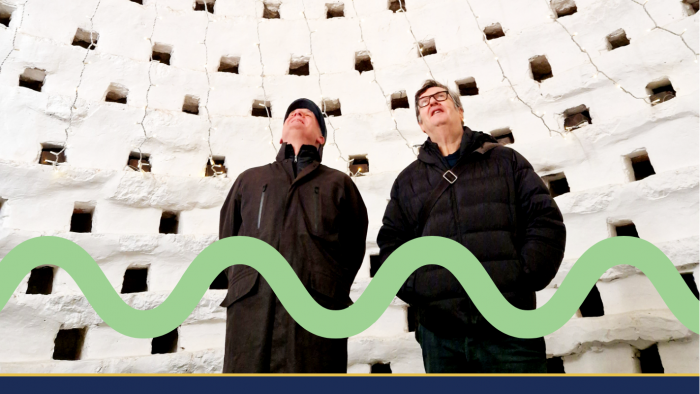 Combining arts, culture and community at Otterpool Park is one of the ways that we are working to create a vibrant, appealing and diverse new community and enable transformation and regeneration of the area. Known as 'creative placemaking', it can help to shape the character and identity of communities by leveraging the power of the arts.
We are designing Otterpool Park to be a creative place, featuring the best of design and adopting a creative approach to everything we do. Otterpool Park is located in an area that's known and celebrated for its heritage, creativity and culture – events like the Folkestone Triennial, the work of Creative Folkestone in Folkestone's Creative Quarter and the thriving creative and digital industries locally have grown the area's creative reputation internationally and have been transformative in attracting people, businesses and social change.
The celebrated British artist Mark Wallinger visited the Otterpool Park site along with Lewis Biggs, Chairman of the Institute for Public Art and former curator of the Folkestone Triennial, to discuss creativity in placemaking with our Managing Director Andy Jarrett.  Mark was awarded the Turner Prize in 2007 and his work Ecce Homo was the first piece to occupy the empty fourth plinth in Trafalgar Square, London. His Folk Stones installation for the 2008 Folkestone Triennial was inspired by the one million soldiers who left from Folkestone harbour to fight on the battlefields of France and Flanders. 19,240 individually numbered stones laid out into a massive square stand for the exact number of British soldiers killed on 1 July 1916, the first day of the Battle of the Somme.
Speaking of his visit, Mark commented,
"From its ownership by King Canute and Westenhanger Castle's connections with Henry VIII and Elizabeth I, Otterpool Park is a site rich in history.
"The former racecourse also has its own particular charm for me, and it is exciting to be given the opportunity to think about creating something that both pays respect to its past and gives focus and identity to the nascent new town."
Tamasin Jarrett, our Community Services & Events Manager, said, "We were delighted that Mark and Lewis visited the Otterpool Park site. Mark was really taken with the project and he has a personal interest in horse racing.  He and Lewis received a full tour, taking in the former Folkestone Racecourse grandstands, parade circle and racecourse track, Westenhanger Castle and its old barns, the ancient causeway, a visit to the lakeside."